For the final project I decided to make a roller that can burn a QR code on wood. It would be made out of 1″ aluminium stock with a heating rod inside. I would primarily use the 4axis mill.
First I had to generate the QR code, and because it had to be milled, I needed something with rounded corners. Thankfully I found unitag, a website that generates such QR codes easily. The website itself oly generates PNG images, and I needed vector images, so I used their API to generate the SVG. Here is the final QR code which links to my website:
I needed to project this QR code on a cylindrical surface and extrude it. After a bit of searching around, I found this tutorial which did almost what I needed, and I just changed the text to SVG image instead. I had to stretch the image about 10% in the y-axis to make the final curved image square.
I 3D printed the file first, to make sure I had it right.
I then tried it on a wooden dowel to get the process right before milling aluminium.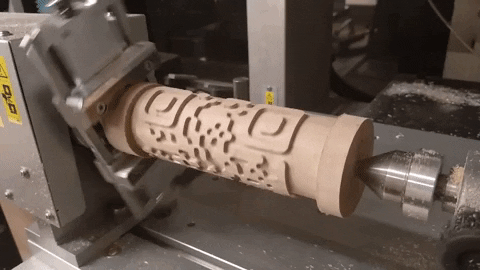 The result was a pretty nice ink roller.
I finally started milling aluminium and after a few failed attempts with ball nose bits, I got it right with a 1/8″ square bit. I had to modify the 3D file a bit to increase the gaps, so i could do the entire process with a single 1/8″ square end bit.
Here's the final piece milled
I'm adding the heating elements to make it a wood burner.